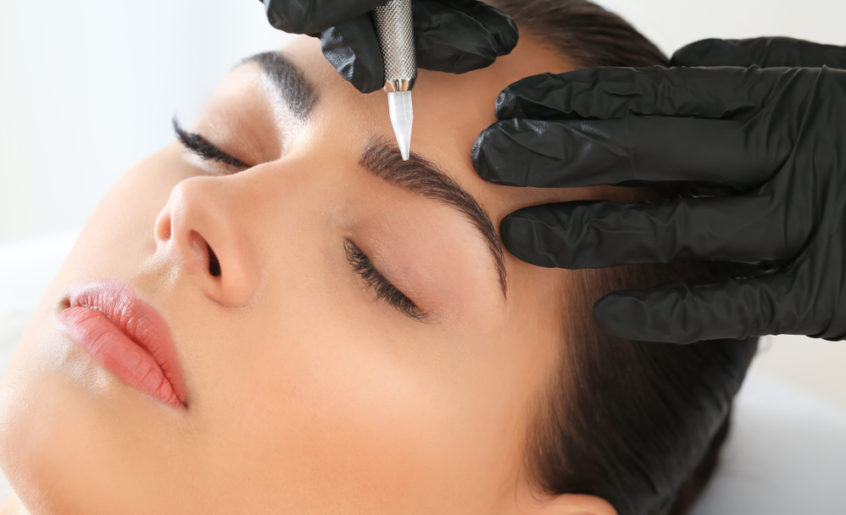 Microblading – $450-$550
At Bella Lash Boutique, we specialize in the most natural looking microblading treatment. Microblading is a technique is performed by depositing pigment superficially into the epidermis of the eyebrow. After numbing the area with a topical cream, small incisions are created, using a fine and very precise blade. The strokes accurately replicate hair. Results can last from 18 to 24 months, depending on a variety of factors such as color of pigment, skin type, and lifestyle. Microblading is a 2 appointment process. The initial appointment takes 1.5 – 2 hours while the second follow-up appointment is 1 hour. The second appointment, which is the perfecting appointment must be booked 6-8 weeks after the first appointment.
Frequently Asked Questions:
WHAT HAPPENS DURING A MICROBLADING BROW CONSULTATION?
Brow hair grade and color is analyzed, and the desired shape is drawn on with a specialized pencil. We will draw each strand to create a symmetrical, natural-looking brow that is custom-made for your bone structure, giving you the chance to see how dramatically new brows change your face. Once you are satisfied with the shape and thickness, the technician consults with you on color— we mix and match with the hue to ensure we get a shade that is closest to your natural hair color . We will also discuss the procedure, the after-care, how long it takes the skin to heal, and how to ensure the best results.
IS THERE DOWNTIME AFTER RECEIVING A MICROBLADING TREATMENT?
There is no specific, formal downtime after Microblading. Your newly Microblading brows will look a shade or two darker for the first few days, then lighten within the first week. To support the healing process after treatment, keep thin layers of neosporin and sun protection (SPF 30, or higher) on the brows at all times. Keep exercise and other activities that may cause excessive sweating to a minimum for at least one week, or some pigment may fade or be lost. Chemical and laser peels, or botox treatments should be avoided for at least 6 weeks prior to Microblading. Hydroxy acid products, retinoids, and/or any exfoliating treatment such as microdermabrasion should be avoided for at least 2 weeks prior to Microblading.
WHAT IS THE PERFECTING SESSION?
The perfecting session, done within two months of the initial treatment, is extremely important to ensure perfect results. We use this session to set the shape and color, and make any small adjustments if needed.
IS IT PAINFUL?
We use effective numbing creams that are FDA approved. On a scale of 1 to 10 with "1" being no discomfort, clients often experience between a 2 and 3 with the Bella Lash Brow treatment. Other factors such as menstrual cycles also affect level of sensitivity.
IS IT SAFE?
All our pigments are cosmetic grade, meaning that they are sterilized and purified for cosmetic use. The ingredients used have been approved by the FDA for cosmetic use. Be wary of products that have not met safety standards, including those that contain "vegetable dyes" that are unstable and may change color after time. In addition, all our tools are single-use and discarded after the treatment. Our specialists are highly trained and experienced professionals.
CONSULTATION APPOINTMENT – READY TO SCHEDULE THE INITIAL APPOINTMENT?
A consultation is required prior to all Microblading treatments, as not everyone is a candidate.
Note that those who do not have enough natural hair are not candidates for Microblading treatments. Often times a grow-out phase of a minimum of 6-12 months is required.
If interested in an initial consultation, please contact Bella Lash to schedule an appointment.
661-487-3419